PEP® Dr: treating the 'patient' organisation in times of crisis
…the 'heartbeat' of engagement and performance

There is a famous saying that "people don't leave jobs, they leave managers". When researching this, Martin and I came across the 'seven deadly sins of management' – a concept promoted by Professor Julian Birkinshaw in his book 'Becoming a Better Boss'. Personification of the sins through genuine employee comments depicted how sinful managers can stifle engagement and performance (Bakhshalian and Reddington, 2019; 2020).
Managers need to move away from these sins in search of more virtuous and saintly behaviours. But, how can they? We thought a lot about this and came up with the idea of creating a song to encourage 'Another Way' of 'chasing down those 7 deadly sins'. Here is how it goes…
I've got a cautionary tale I need to shout, I'm gonna find another way to work it out, Open eyes, tomorrow is another day,
I'm gonna find another way.
A short excerpt of the song can be found here:
Treating the 'patient' organisation as a 'conversational arena'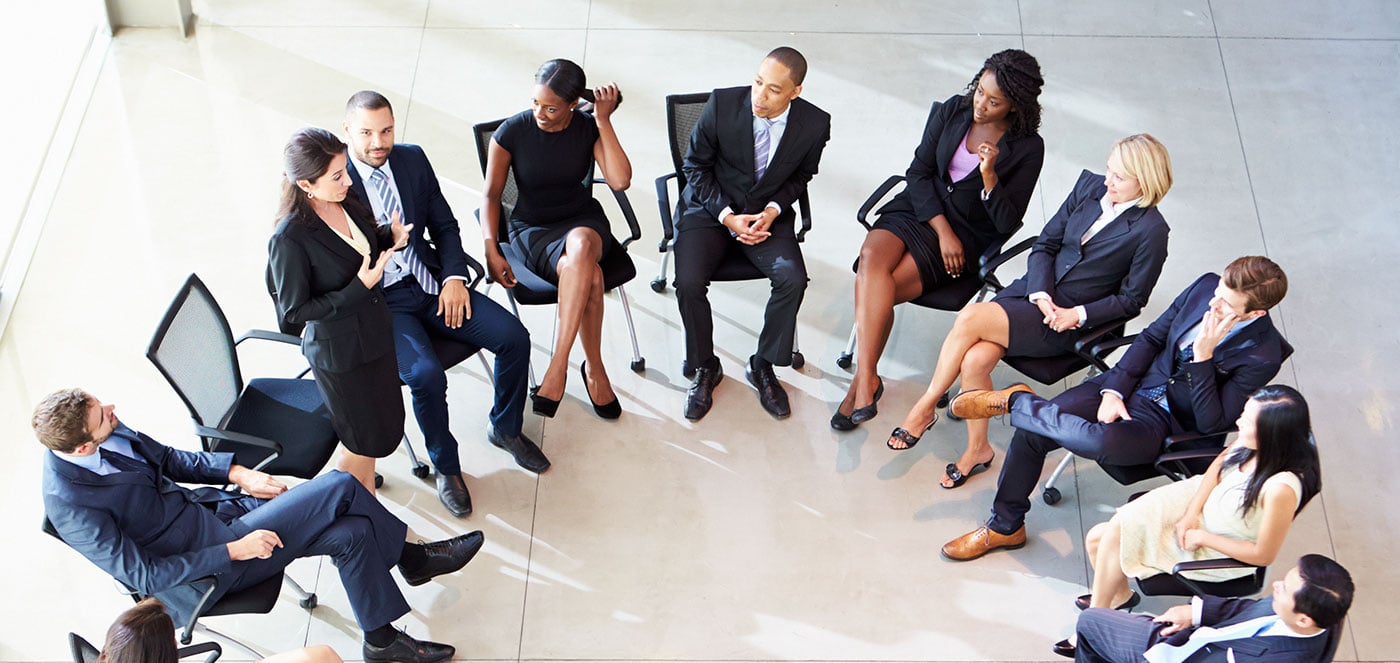 Conversational practice which embraces the free expression of "wishes, desires and feelings…in the search for what can be accepted as fair, morally right and mutually beneficial in the employment relationship" (Francis et al, 2013) can be a useful conduit for keeping tabs on employees' performance and engagement levels, particularly in times of crisis such as Covid-19. Real-life employee examples of good and poor conversational practice can be found in PEP® Dr Junior: Unlocking the puzzles of peak engagement and performance (Bakhshalian and Reddington, 2019).
A picture is worth a thousand words…PEP® Art
We found it useful to represent employees' experiences (after interviewing them) through paintings. As explained by the artist herself, Niloufar Bakhshalian "the buildings represented in art form provide a means by which to explore pictorially the people, the culture, the challenges and the level of progress made over the years, because it is the location at which employees are physically gathered on a daily basis". A wonderful snapshot in previously 'normal times' – what will the painting look like in the future and how might it encourage conversations and good practice in the 'new' normal?
Download PEP® Dr Junior for free to join us on our interactive engagement-enhancing journey.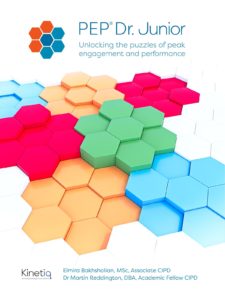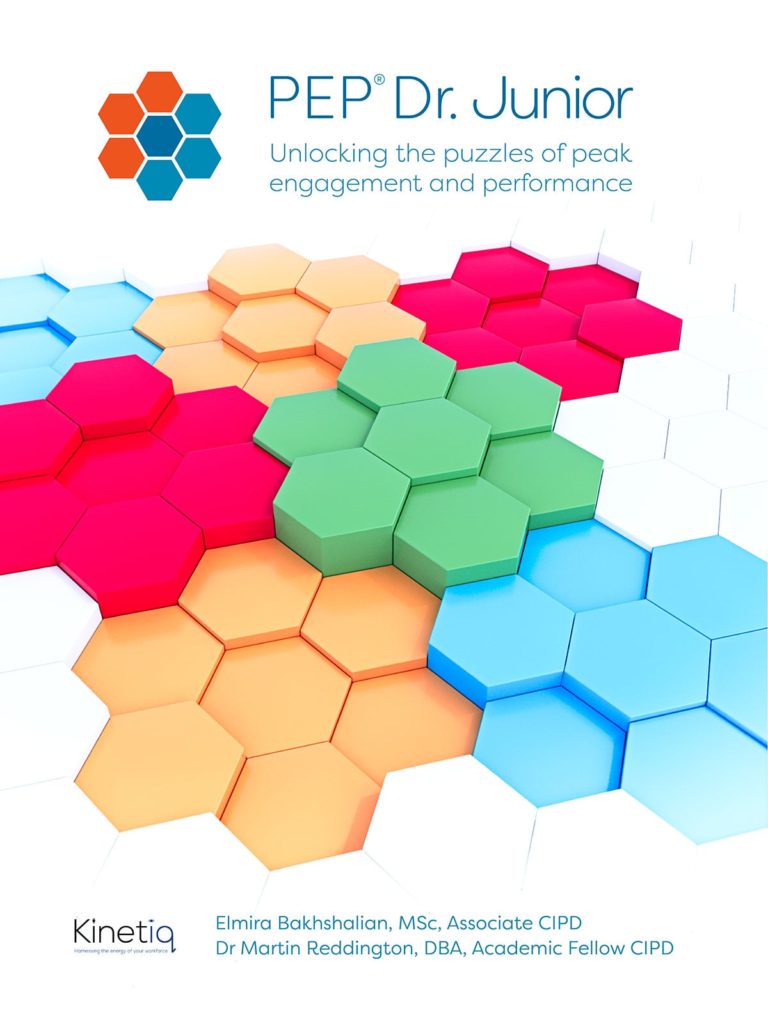 References
Bakhshalian, E., & Reddington, M. (2008). PEP® Dr: Unlocking the Puzzles of Peak Engagement and Performance, Croner-i, London, Available at: https://app.croneri.co.uk/strategic-briefings/pep-dr-unlocking-puzzles-peak-engagement-and-performance (accessed: 14 April 2020)
Bakhshalian, E., & Reddington, M. (2019). PEP® Dr Junior: Unlocking the Puzzles of Peak Engagement and Performance. London: Kinetiq
Bakhshalian, E., & Reddington, M. (2020). PEP® Dr: Unlocking the Puzzles of Peak Engagement and Performance. (2nd ed). London: Kinetiq
Birkinshaw, J. (2013). Becoming a better boss: why good management is so difficult. San Francisco, California: Jossey-Bass
Crawford, E.R., LePine, J.A., & Rich, B.L. (2010). 'Linking job demands and resources to employee engagement and burnout: A theoretical extension and meta-analytic test', Journal of Applied Psychology, Vol, 95, pp. 834-848
Francis, H., Ramdhony, A., Reddington, M., & Staines, H. (2013). 'Opening spaces for conversational practice: a conduit for effective engagement strategies and productive working arrangements', International Journal of Human Resource Management, Vol. 24 (14), pp. 2713-2740
Macey, W.H. & Schneider, B. (2008). 'The meaning of employee engagement', Industrial and Organisational Psychology, Vol. 1 (1), pp. 3-30
MacLeod, D., Clarke, N. (2009). Engaging for Success: Enhancing Performance though Employee Engagement, Department for Business Innovation and Skills, London: Crown Copyright
Newham, D.A., Harrison, D.A. (2008). 'Been there, bottled that: Are state and behavioural work engagement new and useful construct "wines"?', Industrial and Organisational Psychology, Vol. 1, pp. 31-35
Purcell, J. (2014). Time to focus on employee voice as a prime antecedent of engagement: Rediscovering the black box. Retrieved from http://citeseerx.ist.psu.edu/viewdoc/download?doi=10.1.1.855.8754&rep=rep1&type=pdf (accessed 15 April 2020)
Rich, B.L. LePine, J.A. &, Crawford, E.R. (2010), 'Job engagement: antecedents and effects on job performance', Academy of Management Journal, Vol. 53 (3), pp. 617-635
Saks, A.M. (2008). 'The meaning and bleeding of employee engagement: How muddy is the water', Industrial and Organisational Psychology, Vol. 1, pp. 40-43
Sardeshmukh, S.R., Sharma, D., & Golden, T.D. (2012). 'Impact of telework on exhaustion and job engagement: A job demands and job resources model', New Technology, Work and Employment, Vol. 27 (3), pp. 193-207
Schwab, P. (2005). Leave a Mark, Not a Stain! What every manager needs to know about using humor in the workplace. United States of America: Rollingwood Press
Wollard, K.K. &, Shuck, B. (2011), 'Antecedents to engagement: A structured review of the literature', Advances in Developing Human Resources, Vol. 13 (4), pp. 429-446